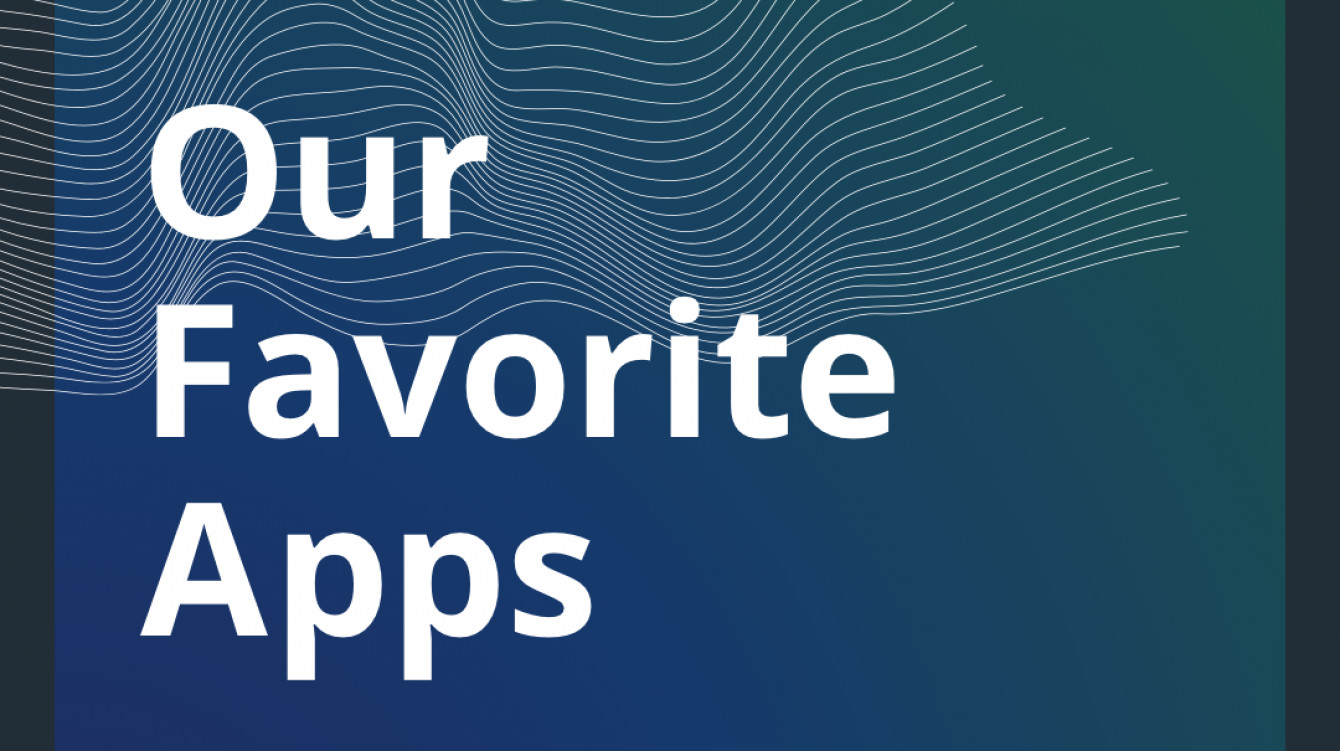 Our Favorite Apps for National App Day 2020
Fergus Horner
Robinhood
Robinhood makes managing a stock portfolio both extremely fun and easy. I love that the app offers relevant industry specific insights, which I find both educational and useful. You can even purchase fractional shares so if you have $1.00, you can own a piece of a big publicly traded company or exchange traded funds. Yep, you're looking at being a partial company owner of both Amazon and Alphabet (Google). I kindly ask both companies not to include my name on any official documents. However, if asked, I request that they both refer to me as a strategic investment partner.
Jason Mills
Spotify
This is kind of a cop-out because TONS of people use this app daily, but I am constantly impressed by the accuracy of Spotify's "Discovery Algorithm." Aside from the rare word-of-mouth referral to a new artist or album, my music discovery can almost solely be credited to Spotify's Discover Weekly & Release Radar playlists or "you may also like..." suggestions. Just when I think Artificial Intelligence can't know everything about me, Spotify hits me with a deep-cut Rage Against the Machine remix of Outkast's "Bombs Over Baghdad," and I know they've got me pinned!
Jacqueline Glenwright
Loomly
Recently Atypic has revamped our social media marketing strategy and management for both our internal social efforts, as well as clients'. We chose Loomly as our management tool and since one of my duties is to make sure our posts are scheduled and published, the mobile app helps me make sure I never miss a post. It's easy to use and I feel like I can post for our team or clients even when I'm not actively working - whether that's from the comfort of my bed on a Sunday evening or at a coffee shop on a Saturday morning.
Mallory Boyd
Co-Star
Yep, it's an astrology app. But hear me out. I downloaded this specific one well over a year ago. I've always had interest in astrology to better understand myself and what makes me who I am. Co-Star shows you your entire chart - it shows you in what planet all your signs are in (for instance, my sun is in cancer, moon in libra, and my ascendant is in gemini) as well as your houses that make you who you are (whether you want to believe it or not.) I spent a lot of time learning about how my rising sun in cancer is how I view the world and life, but my ascendant in gemini is how I portray myself to others. I get daily notifications about what I'm likely struggling with, where I have strength, and where I have trouble. It gives me a few moments a day to channel my own thoughts about what I'm going through and dealing with and how to react to those situations around me. Ultimately, it gives me a better sense of self awareness and understanding of my emotions, thoughts, and processes.
Garrett Dengler
Yummly
Yummly is easily my favorite place to find new recipes as well as revisit old favorites. This app allows me to find tune my food preferences, such as excluding all recipes that include mayo (because ew.) It's also my favorite because recipes are sourced from several different food blogs. Recipes are rated on Yummly by users so it's less biased when looking for the best recipe.
Hayden Grindstaff
Mint by Intuit
Mint is a super handy app that lets me manage all of my transactions, credit cards, loans, bank accounts, bills, and budgets in one place. I especially like it for bill reminders. I manage all the bills in my house and I add the days they're due right in my Calendar app so I never miss one. I can even connect the app to the different services I use so it automatically updates the bill amount and due date as soon as it's available. It's also nice to see where I'm spending money and can create goals and budgets to help me save and plan future purchases.
Morgan Bailey
Peloton
I love Peloton because I'm able to view my workout history and metrics without having to be on the bike. This app lets me easily look for upcoming classes based on what I'm looking for that day. It has an extensive filtering system that is super user friendly and gets me detailed class results. I also like that I can stream classes on my phone from anywhere, perfect for when I'm on vacation or away from the house.
Sophie Van Dyne
1 Second Everyday
It has been so fun being able to watch my 4 month old pup Ollie grow up. Thanks to the 1 Second Everyday app, I will be able to cherish these memories forever. Every day I take a short, one-second video, of my sweet pup when he learns a new trick, he's being a goof, or when he's just being extra crazy! These short clips are all compiled into one video that continues to grow the more you use it. I can add captions and some nice background music to bring it all together. My favorite part is watching it from start to finish each day as I add a new video clip. While this video journal has been all about Ollie, my next one will be much more broad and will begin on January 1 to kick off the new year!
Scott Caudle
Personal Capital
Personal Capital is an amazing app that lets me keep track of my finances/net worth every day. Being financially smart is something that's super important to me, so with Personal Capital I get peace of mind knowing where each dollar is going. This app allows you to view your entire net worth in one spot, be it checking, savings, investments, and even home mortgages! Security is also really great with this app (ex: financial data is read only), so I trust that my financial information is safe.
Matt Giebeig
Stitcher
Stitcher is a podcast app that has proven useful for making the 8+ hour drives home more bearable. The app itself is optimized for ease of use and exists on every platform imaginable. My wife and I have been listening to the Office Ladies podcast, bingeing as many episodes as possible every time we make a long drive!
Melody Songer
Sketch Mirror
It's no secret that as designers we use our large desktops to design for everything. The challenge is when we're designing for tablet or mobile...on a desktop. Enter Sketch Mirror app. Essentially, this app allows you to see your designs in context on the device to Sketch via Wi-Fi or USB and, bam, now you can preview and test your designs on the screens they were designed for! I use this app on the job frequently to ensure good legibility, readability, and sizing.
Megan McHugh
TinyBeans
Tinybeans allows me to post a picture a day (or many pictures) of my children and I can tag them in the photo to easily categorize by child - since I have so many ;). My parents and sisters have access to the app so each day when they wake up they get a notification of a new image of their grandchildren or nieces. Being far apart, it;s a great way to show each child's progress and funny snapshots of our day, which makes everyone feel more connected. It's also really fun for me and my husband to easily look back on years past to see things that were happening at any given point in time.
Luis Costales
Flipboard
The Flipboard app has been my go-to news source for the last 5+ years. It is essentially a really well thought out content aggregator, sourcing content from hundreds of sources. It allows you to customize your content by interest and organize personal shareable magazines. The time saved in having your favorite blogs, websites, and social outlets all presented in a structured, easy-to-use, flippable magazine format is a great way to squeeze more time back into your busy day. I think my biggest use for this has been the ability to quickly share out content with the Atypic team. It could be code-speak for the development team, new tools or inspiration for the design team, algorithm updates for the search engine marketing team, or process and organization tips for the client services team.