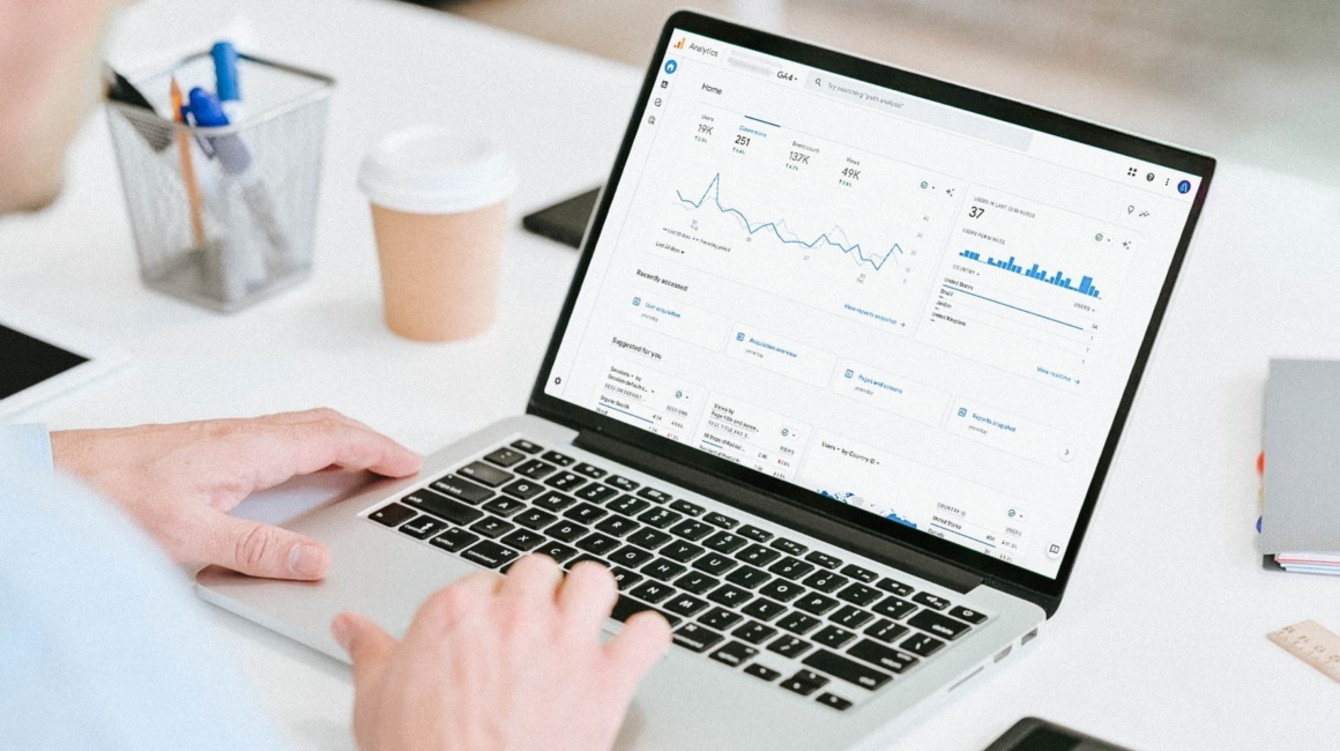 What We Wish We Knew Sooner Navigating the Transition from UA to GA4
In the ever-evolving landscape of digital analytics, staying ahead of the curve is crucial for businesses striving to make informed decisions. The transition from Universal Analytics (UA) to Google Analytics 4 (GA4) on July 1, 2023 has brought about a paradigm shift in how we measure and interpret user interactions. In this blog post, we'll dive into the main metric changes from UA to GA4, shedding light on the implications for businesses and the potential benefits of the transition.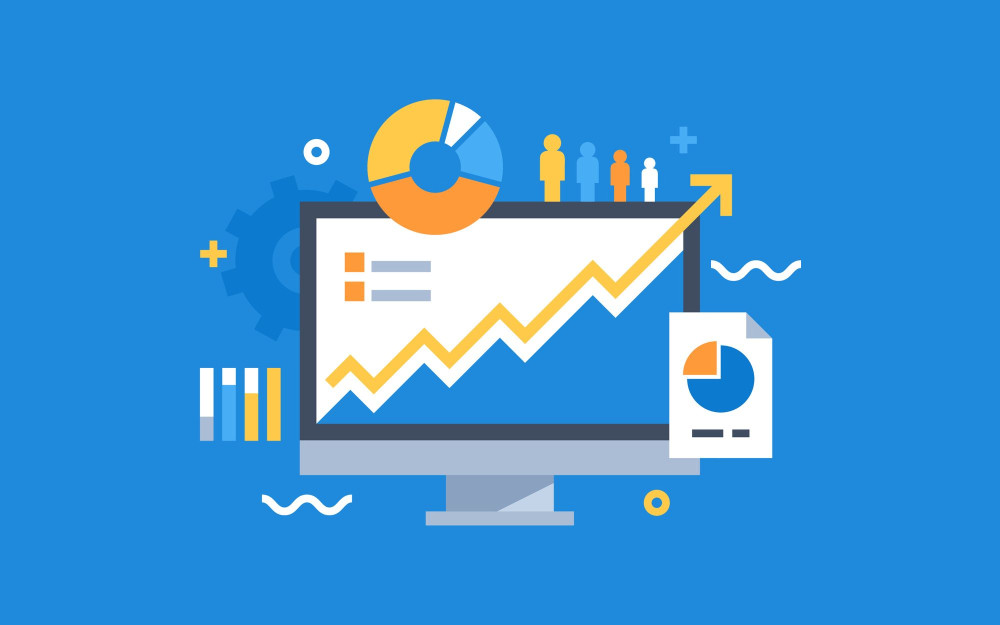 Engagement Rate: A New Perspective on User Interaction
One of the most significant metric changes in GA4 is the introduction of the engagement rate. Unlike its predecessor, which relied heavily on bounce rates, GA4's engagement rate paints a more nuanced picture of user interactions. This metric quantifies the percentage of engaged sessions, where engagement is defined by various actions such as spending over 10 seconds on a landing page, completing a conversion, or navigating 2 or more pages on the site. Bounce rate, in turn, is now the inverse of the engagement rate, offering a more comprehensive view of user behavior.
User Metrics: From Total Users to Active Users
GA4 places a renewed emphasis on user activity and introduces the concept of active users as the primary user metric. Active users are those who participate in engaged sessions, aligning more closely with modern user behavior.
Views and Sessions: A Refined Approach
GA4 simplifies the terminology, replacing "page views" with "views" and refining the session concept. Sessions are now initiated by the "session_start" event, generating a session ID that connects subsequent events.
Conversions Reimagined: A Granular Approach
The definition of conversions has undergone a transformation in GA4. Unlike UA, which counted a single conversion per session for each goal, GA4 defaults to record every instance of a conversion event (you are able to change this back to counting a single conversion per session if you wish). This change offers a more granular understanding of user interactions, ensuring that businesses can comprehensively measure and analyze conversion actions. Alternatively, when comparing UA conversion to GA4 conversion, this change may create a large inflation of conversions depending on what your brand is tracking simply because of the way it is being counted.
Additionally, be sure you mark desired custom events that you have created to be conversions, once you do this GA4 will begin tracking these as conversions in your Reports section. You can do this by going into your settings, clicking on conversion then toggling your desired events to be marked as conversions.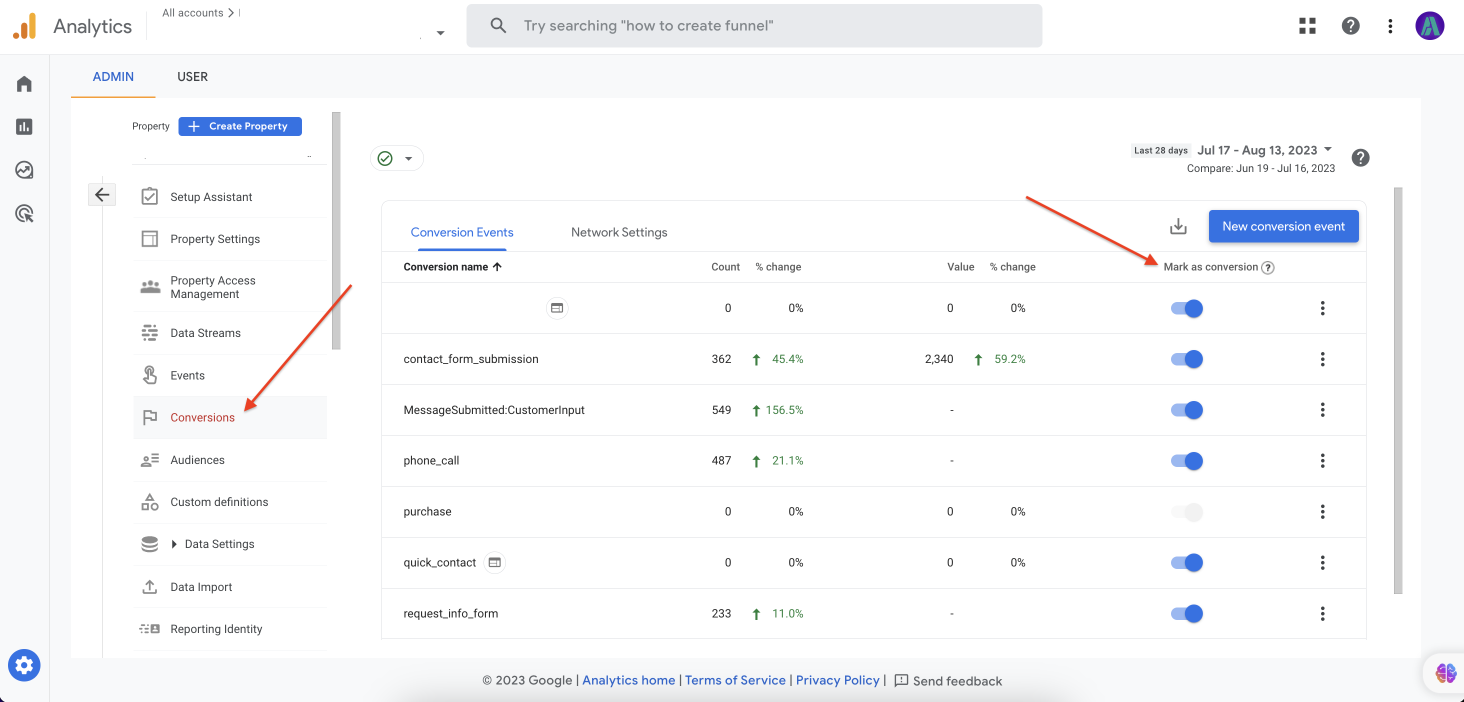 Data Retention and Privacy Considerations
This next portion is arguably one of the most important settings to adjust in GA4. Google defaults to retaining data (for building custom reports in the Explore section) to only 2 months, however, you can extend this to be 14 months. To be clear, this is not affecting your normal reporting section but just the Explore section's time frame. Based on other articles and sources, it is unclear as to why Google would default to such a short period and also limit it to only 14 months. Many industry professionals believe this to be Google's claim to providing a balance between data insights and privacy concerns. Regardless, we highly recommend that you change this to 14 months if you want to utilize custom reports referencing data further than 14 months.
Data Thresholding is another major frustration we had at the beginning of our transition to GA4, this occurs when there are *roughly* fewer than 50 counted users. Google will hide this data from your viewable reports in effort to protect specific users demographics.
Data thresholding can be avoided if you do not enable Google Signals which means you will opt out of tracking user demographics. So if reporting with these metrics or retargeting an audience based on their demographics in Google Ads is not relevant to you or your clients analytics, then perhaps you can choose to opt out of Google Signals which in turn will prevent the thresholding.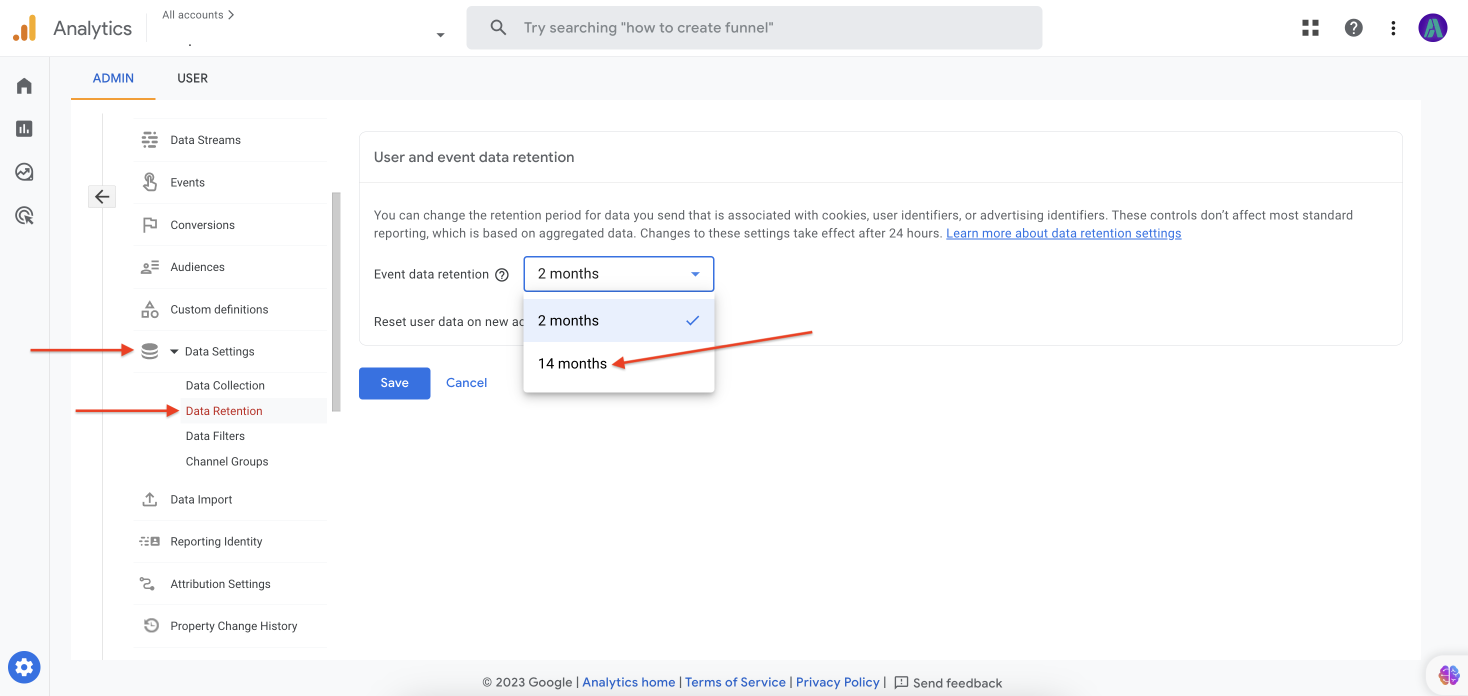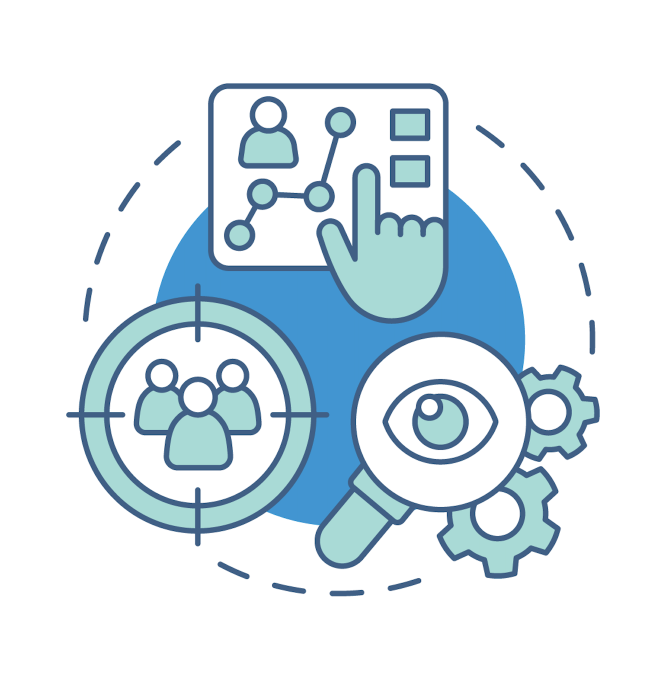 Reporting Identities in GA4
In Google Analytics 4, there are three different ways to figure out who's using a website: Blended, Observed, and Device-based. Blended looks at user-ID (given to user's signed into their Google account), Google signals (enhances tracking if permitted by user and allows for remarketing), device-ID, and modeling. It checks user ID first, then Google signals, then device ID, and lastly modeling if nothing else works.
Observed only looks at user-ID, Google signals, and device-ID. This does not use modeling as it only tracks observed actions.
And the third identity is device-based, which is all about device-ID. It only pays attention to the device someone is using. This can show some unique metrics about how people use their devices, but it might miss out on other important info about users.
The GTM Advantage
Google Tag Manager (GTM) is a powerful tool offering unparalleled speed in deploying code, centralized tag management, efficient testing and debugging, all without incurring additional costs. Businesses can iterate and fine-tune their tracking strategies without extensive developer involvement, resulting in faster insights and a streamlined analytics process.
Utilizing the ability to tag and track custom events that might not normally be tracked in Google Analytics 4 can be powerful for gaining deeper insights to user behavior on your site. This tracking can also help your website designers understand how users are interacting with components and if they should continue to implement similar components or not. Some of these components might include features such as expanding FAQ sections, social media links, request more information button or any other unique features you might have on your site.

The Countdown to July 1st, 2024
An important milestone approaches – on July 1st, 2024, all Universal Analytics data will be permanently deleted. Businesses and users are urged to manually download essential data before this date, highlighting the need to adapt to the new GA4 ecosystem. BigQuery and other data warehouses are now crucial for enabling the preservation of historical data beyond the impending deadline.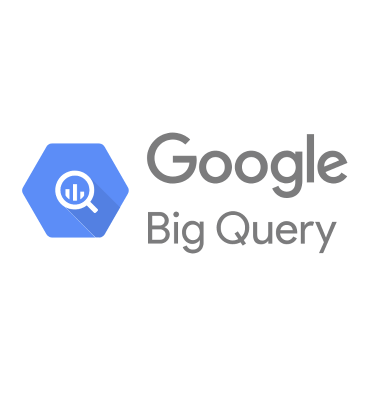 Storing Data Longer and Accessing Raw Data
For those seeking deeper insights, BigQuery offers access to raw data, while machine learning automation fills data gaps, enhancing the accuracy of your analysis. By integrating Big Query and Google Analytics, businesses can seamlessly stream their Google Analytics data into BigQuery, creating one centralized location for their web and app analytics information. This allows for more complex and customized analyses beyond the capabilities of standard Google Analytics reports (especially those who are looking to analyze data older than 14 months). Utilizing Big Query can be somewhat complex, however if it is right for your client or your business then you can certainly utilize the storage flexibility, perform deep dives into more data, uncover meaningful insights, and create tailored visualizations to drive data-informed decision-making and improve overall digital strategies. We highly recommend doing your research and talking with your developers first before jumping into BigQuery but once you learn the capabilities you have extensive potential!
It's no secret this is a big adjustment for our industry. We are constantly evolving and adapting to Google Core updates, new privacy laws and this shift from UA to GA4 is no exception as it marks a pivotal moment in the world of digital analytics. Embracing these metric changes empowers businesses to glean deeper insights into user interactions, make informed decisions, and harness the full potential of their online presence. With the support of tools like GTM and BigQuery, the transition becomes not just a necessity but an opportunity to elevate your analytics game and stay ahead in an ever-evolving digital landscape.